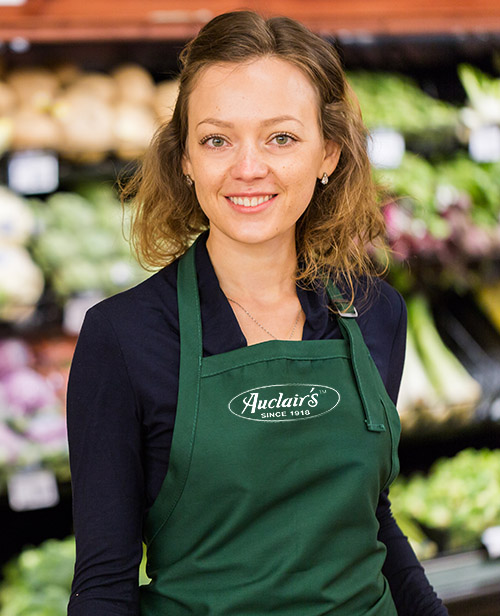 Freshness, Services, Selection and Value.
Spring is finally here!  During the last year we have all endured, all of us at Auclair's
want to thank all of our loyal customers for your understanding  of our store's procedures and time changes that were put into place due to Covid-19. We came together as a community  to ensure the safety of our dedicated employees and you, our fantastic customers.
We move on to spring, and all the wonderful weather and holidays in store for us. This spring
season we are gearing up for Easter April 4th. Our meat department will have stocked for you all
the special ingredients for your special Easter Dinner. We stock some of the best hams
available, such as: Triple M Buda Ball Hams, Boar's Head Sweet Slice Hams and Farmland Carve
Master Hams. We are known for our fresh quality meats; Certified Angus Beef, Domestic Lamb,
Turkeys and more. Call ahead to order! The Deli Department can help you out in the kitchen
with prepared side dishes for your Easter dinner. The bakery has in stock for you hot cross buns
and dessert and dinner pies. For Good Friday we have our famous Salmon Pie, Fish and Chips,
Lobster Rolls, Delicious New England Clam Chowder and more.
Our Grocery department can provide you with all your grocery needs, and is currently ordering
from local bakers Portuguese sweet bread with eggs.
We are here to help you with all the spring holidays and events, graduations, first communion,
confirmations etc. Our Deli and Bakery departments prepare a variety of platters and are happy
to discuss with you any request you may have.
Our Produce department is working with local farmers and we look forward to bringing into our
store their fresh produce.
Firing up the grill? We are cookout specialists featuring custom cut Certified Angus beef steaks
and our famous in store products; Auclair's in store ground beef, marinated meat, pub burgers
and kebobs. We stock: Lobsters, clams, steamers and ready to cook clam boils.
Dates to Remember:
Easter-April 4th
Mother's Day- May 9th
Memorial Day- May 31st